child-ce

n

tr

e

d spatial design
Zonnebloem Playground Co-design
​
See Saw Do has been part of a larger ongoing project on the Zonnebloem College Estate. Focussed on placemaking on the playground, we have run various interventions, workshops and prototypes with the students.
​
Client : Thursday Projects (V&A Waterfront Museum Night)
Where : V&A Watershed
Concept, design and implementation : See Saw Do
Getting to know the Playground
Research and Observation
We started by spending time on the playground, observing the types of play, running focus groups, surveys and short workshops. This helped us get a better understanding of the resources available, the culture of play that exists and how the students engage with their existing space. We then began to ask what the students imagine their space can become.
​
First Playground Intervention
Play Barn Build
The Play Barn is a space filled with prototyping tools and materials and a meeting space to share content with the kidZ of Zonnebloem as we partnered with them to redesign their playground.
To build the Play Barn we invited the students of Zonnebloem to get hands-on and be a part of the process. There was much excitement and we were amazed at how quickly these young doers got stuck in. These cool kidZ were full of energy, ready to paint, saw and build the new space for their school.
A big thanks goes out to Design Indaba and Morag Myerscough who donated the beautifully coloured plywood boards that were repurposed to build the Play Barn structure. Checkout the article on Design Indaba's website.
​
Testing Loose Part Play
What will happen if you give children access to loose parts, tools and materials on the playground? We Opened up the Play Barn for free play. Here is a short clip which shows the magic of letting young makers do their own thing✌
​
Why Consider Loose Part Play?
"Loose parts aren't prescriptive and offer limitless possibilities. A stick, for example, may become a fishing rod near real or imaginary water, a spurtle in a mud kitchen, a tool to nudge a football that is stuck in a tree; it can be thrown, floated, snapped, pinged, bent, hidden, added to a pile, burnt, tied to something else, split, catapulted or discarded. Static, unchanging play spaces do little for children whereas environments which can be manipulated, where things move and can be moved open worlds of possibility.
At a beach, for example, there is an abundance of water, sand, stones, rocks, smells, sights, vistas and textures which enable children to be highly inventive and creative in their play.
Natural environments such as mature woodland or beaches often provide significantly more loose parts with higher levels of affordance than many artificial play spaces such an asphalt school playground or a tidy urban park." (Loose Parts Play : A toolkit by T Casey & J Robertson)
​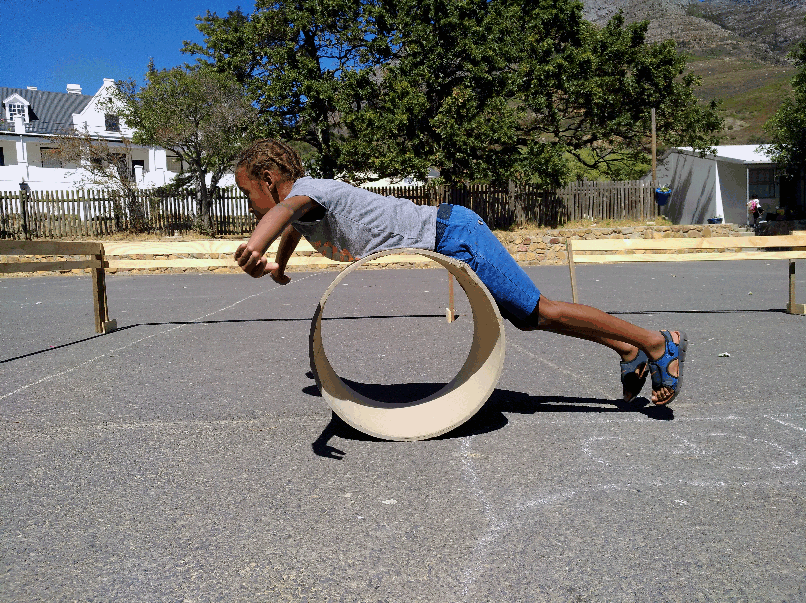 Prototyping Playground Games
Cardboard Games Day
On the last day of school, we hosted a games day to test all of our prototypes in one go. The games were placed in different areas of the playground. These prototypes would inform the design of longer lasting infrastructure for this area of the playground. By inviting the students to build and test ideas, we opened up opportunities to get hands-on and shape their own environment, forming better connections between the community and their space.
​